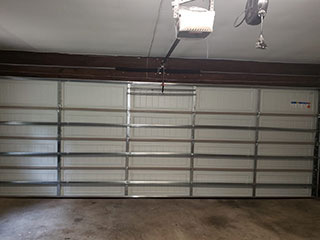 Don't Let The Damage Get Worse
Unfortunately, as much as it may be tempting to put off getting that faulty garage door opener looked at for now, it will mean more issues down the line. The damage will spread the longer your door is used with a malfunctioning component and require even more repairs. If you notice symptoms such as your door shaking a lot when moving, making a lot of racket, or reversing abruptly while closing, it's time to get your opener checked out! You need to be able to rely on your door to work when you need it to, so make sure it will thanks to our experts.
We Can Install New Openers Easily!
Whether you need help picking out the right one for your home, or you've already bought it, our professionals can take care of assembling and installing your new garage door opener for you before you know it. Allowing the experts to do it is ideal, as even the simplest of openers can have problems if they weren't put together or installed correctly. This can wear them down faster than necessary, so let us help to be safe and ensure it lasts you a long while. We work with all the most popular brands, so whether it's Linear or LiftMaster, you can trust us to get it done.
Repairs & Replacements Are No Problem!
Our technicians will be able to find the root of whatever trouble is happening with your opener by performing a thorough inspection. This way the true problem will be fixed, rather than just a symptom. Over time the parts of your opener may get worn or even rusted, so we'll repair or replace them as is needed to get it running smoothly again. If the damage is too much, or you simply want to upgrade to something quieter or sturdier, we can replace it instead.
Why Wait Any Longer?
Just contact our friendly Garage Door Repair Broomfield team now for all of your opener's needs.
Additional Information You Can Use
Do you have some LiftMaster garage door opener troubleshooting tips?
LiftMaster products come with a nifty self-diagnostic feature to help you with troubleshooting. Each of their openers has two little arrow icons on it. If these arrows are blinking, it means the self-diagnostic has detected a problem. Look at ListMaster's website for a complete table of what each number of blinks on each of the arrow buttons means. There are eleven different combinations that each signify a different malfunction.
Which garage door opener brand is the best one?
That all depends on how you quantify "best." Any of the big name brands – LiftMaster, Genie, Chamberlain, etc – can be relied upon for generally high quality products, but factors like cost, versatility, horsepower, and the like all vary tremendously from model to model. The best brand for you depends on what kind of garage door setup you have, and how you weigh factors like noise, expense, and user-friendliness. You're free to contact us to have a professional help you find the best opener for your door.
How does a garage door opener work?
The opener's motor pulls on a drive unit – either a belt, a chain, or a screw – that moves a mechanical trolley across the garage ceiling. This trolley is attached to the torsion or extension spring system, and releases the pressure on the springs slowly, enabling them to slowly release and raise the door open. When the door closes, the trolley works with gravity and cross weights to recompress the springs.
What garage door opener is best when comparing the three main types?
This depends on what the most important factor is for you and your family. Chain drive openers are the most affordable option. Belt drive openers are the quietest and least disruptive type. Screw drive openers are the most user friendly, and tend to last longer because of their low maintenance requirements. They're also the fastest of the three.
We also offer the following:

Commercial Garage Door Replacement

Torsion & Extension Spring Replacement

Opener Sensor Repair & Replacement

Galvanized Torsion Spring Replacement