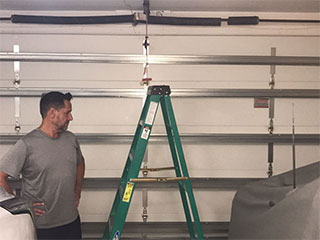 Your home undoubtedly has a lot of projects that need to be done, but don't let your garage door fall by the wayside when it needs repairs! While it may still be able to open and close eventually, if it's having a hard time moving the problem will only get worse over time. Keeping an eye out for indications of trouble such as it dragging and moving slowly can help prevent further issues later on. There's no reason to struggle with a malfunctioning door when we can get it fixed and working easily again right away!
Fast & Reliable Track Repairs
Your garage door track is what it moves along to lift and lower when you need it too. However, over the years it can get dented or warped due to bumps or general wear and tear. This can lead to your door having a hard time sliding over them or even popping out of the track altogether and getting stuck. Our experts will determine how extensive the issue is and get to work by either repairing it, or replacing the track if needed. The latter is a more elaborate process due to needing to mark where the original track is and remove the door entirely to replace it with a new one, but we'll have it over with before you know it.
Roller Repair & Replacement
Rollers are found inside of the tracks and help to slip the door along them, but if you've noticed that your door is slowing down and struggling it may be because of them. The rollers can wear out from use, or become rusted from moisture, and make it difficult for the door to move easily. Our team will carefully pry open the track to remove the rollers and see if they can be repaired. If not, we'll replace them right away.
Why Wait Any Longer?
Rather than deal with a frustrating garage door, get it repaired in no time! Just call Garage Door Repair Broomfield for quick assistance.
More Useful Information
Why is my garage door reversing?
If your garage door is reversing on its way down, the first thing you should do is check your safety sensors. If the photo eye sensors are dirty or misaligned, the door will "think" that there is something blocking it, and automatically reverse for safety reasons. If the door reverses while on its way up, the issue is more likely to be with the springs or opener. In both cases, the remote control could also be at fault if one of its buttons is jammed.
My garage door opens a little then stops. Why is that?
If the door starts to lift off the ground normally but then stops, it could be due to a problem with the opener's travel and force settings, the springs or cables, or the door mechanism itself. Opener settings can be fixed with some simple recalibration, but hardware problems require more intensive repair and/or part replacement.
Why isn't my garage door opening?
If you're garage door isn't opening at all, the problem is most likely with your opener or control systems. First, make sure your door's safety lock and manual override are turned off. Then, make sure your opener is turned on and connected, and that your remote control's other functions (if it has any) are still working. If the door still won't budge, then you likely have a problem inside of the opener itself, such as circuit board burnout or motor jamming, or possibly an issue involving the springs.
Garage door closes part way then opens again. Why does it do that?
The leading cause of this is sensor obstruction or misalignment. If the photosensors on either side of the door are dirty or not correctly pointing at each other, they could cause the door to react to an imaginary obstruction. Other possible causes are remote or wall control problems, mechanical jamming, and serious spring issues.
Give our team a call if you need help with:

Opener Clicker Repair

Garage Door Service

Garage Door Out of Track

Garage Door Adjustment